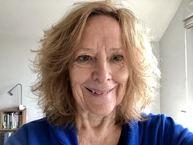 Welcome!

As a psychologist, I offer a holistic approach to psychotherapy and counselling by integrating
Radix body centered psychotherap
y with the more traditional verbal and cognitively based processes.

In growing up, most of us have learned unconscious ways to think, feel and behave that have enabled us to function in the world in a productive if sometimes limited way. Doing so has had its rewards. Usually however, when people present for therapy or growth work they are saying that this old pattern for some reason no longer works so well. Sometimes this means that particular emotional, physical or psychological symptoms have developed. At other times there is simply a lack of joy in living.

In working with clients presenting with these issues, my primary goal is not so much symptom relief. Rather it is the broader goal of opening and freeing up emotional, cognitive and behavioural experience and expression and working toward a free flow of energy and movement in the body. Working in this way creates more aliveness and grace in all aspects of their functioning. In living and communicating with others, we do so verbally and non verbally so both of these areas are addressed in my work.

The work is not about becoming more extroverted or developing a different personality but rather focuses on assisting each client to experientially understand how they interrupt their capacity to feel aliveness and whole hearted engagement with themselves and others whether they are participating in quiet meditation, solitary activity or noisy social interactions.

More specifically, I focus on the client's life patterns and habits as they are expressed in their current life and in what is happening on an energetic level in their body. These patterns are manifested in the mind as rigid habits and beliefs and in the body, by body shape, flexibility of movement, breathing patterns and emotional expression.

In working in this way, I assist clients to discover experientially, how the body participates in unconsciously interfering with the way they think, act and feel. How chronic patterns of breathing, posture and muscular configurations affect their sense of aliveness and emotional vitality in the world. Clients become more able to develop new and different ways of functioning, find resources they didn't know they had and are more committed to adopting new ways of being that serve their needs and desires more effectively.


This approach can be applied effectively to most challenges confronting all of us in living our lives more fully. Clients with whom I have worked over the years, come from all sections of life and they present with a wide variety of issues, personal and interpersonal. Aspects of living most effectively addressed include:
increasing self acceptance and self esteem
integrating body, mind, feelings and behaviour
strengthening a sense of self and self confidence
discovering purpose and an authentic self direction
enhancing capacity for love trust and joy
awakening a greater sense of aliveness
containing or releasing emotions
transforming anxiety, stress and depression
deepening capacity for intimate and sustaining relationships
confronting eating issues