Contract Groups


In this format clients contract to attend a series of group sessions scheduled over two or three months.

Working in groups is quite different from individual work. Often clients are at first fearful or anxious about attending a group or workshop, yet having done so they value the depth and variety of work that can be achieved. They often discover that their experiences with life are not unusual and they find support from participants working on similar or associated challenges.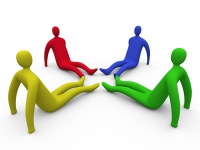 The advantage of contract groups is the same clients attend all the sessions of the series. This results in a deeper intimacy and trust developing amongst participants enabling more intense work to be completed.

Usually these sessions are scheduled on a weekday evening though some groups commence and end with a weekend or Saturday workshop. Attendance at these groups can be claimed against the group allowance on the Medicare scheme.



There are no Contract Groups currently scheduled for 2017. However, if there is enough interest such a group will be scheduled for the second half of the year.

If you are interested in participating in such a group or know someone who might be, please
contact me
for more details.