Individual Sessions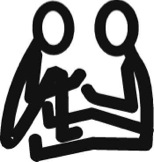 It took time for each of us to develop the particular strategies and ways of functioning in the world that we have as adults.

Individual sessions give you the time and privacy to experience and explore these and how they enhance and impede your life now.

Each individual session is different for the client's unique personality determines the direction, pace and content of a session. Sometimes a session may exist entirely of verbal work, at other times non verbal approaches, like breathing patterns, physical movement, sound or touch may be the focus. Sometimes the work may focus on loosening and freeing up expression, verbally, emotionally and physically. At other times it may focus more on building boundaries, exploring defensive patterns or teaching containment.

The relationship between the therapist and the client is primary in this work. Decisions made about interventions and areas for work emerge from both the client's and the therapist's growing awareness of what is needed and what is emerging and developing in their relationship. Obviously this develops over time which means that deeper aspects of who you are can surface and be worked with in a supportive context.

The most effective work is done with weekly and fortnightly sessions. More irregular sessions are possible but of course progress will be slower.

Individual sessions are available in the day and evening throughout the year. Each session is about an hour. All sessions are arranged by appointment and longer sessions can be negotiated.